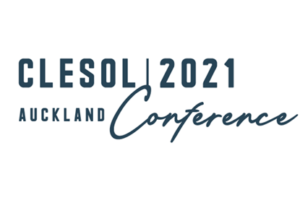 After much careful consideration, the CLESOL conference organising committee, with the support of the TESOLANZ Executive, has made the decision to make our forthcoming conference a virtual conference. The ongoing uncertainty around alert levels, particularly for Auckland delegates, means we may not be at an appropriate alert level to convene a conference that will fairly enable all our delegates to attend and be safe.
TESOLANZ President, Daryl Streat said "The decision was made not to postpone as the conference had been postponed from last year and, with an exceptional programme in place already and professional development opportunities rare, we thought it was best to continue to offer a way for us to reconnect as a profession, so we can share and learn. We really want to say a special thank you to our members, our sponsors, and to everyone who submitted an abstract and is presenting. You have all shown incredible support for our conference. A big thank you must also go to the conference organising committee who have been working on this conference for nearly three years: Christine Hanley (Chair), Rhonwen Dewar, Ailsa Deverick, Ganga Sudhan, Kat Lee, Nicola Kingston, and Faezeh Mehrang."
We are excited about what the virtual conference will offer!
Instead of selecting one concurrent session at a time to attend, delegates will have the option to watch all sessions and workshops at a time that suits them. Plenary sessions will still be as planned with a mix of live and pre-recorded presentations from our international keynote speakers. You will have the opportunity to interact with each keynote speaker and ask questions. There will also be workshops live throughout the programme.
For more information, please visit the CLESOL 2021 website.