Date:
Location: University of Auckland, Epsom Campus
Registrations have closed
Focus on Assessment Symposium (Face-to-face) – February 13 2021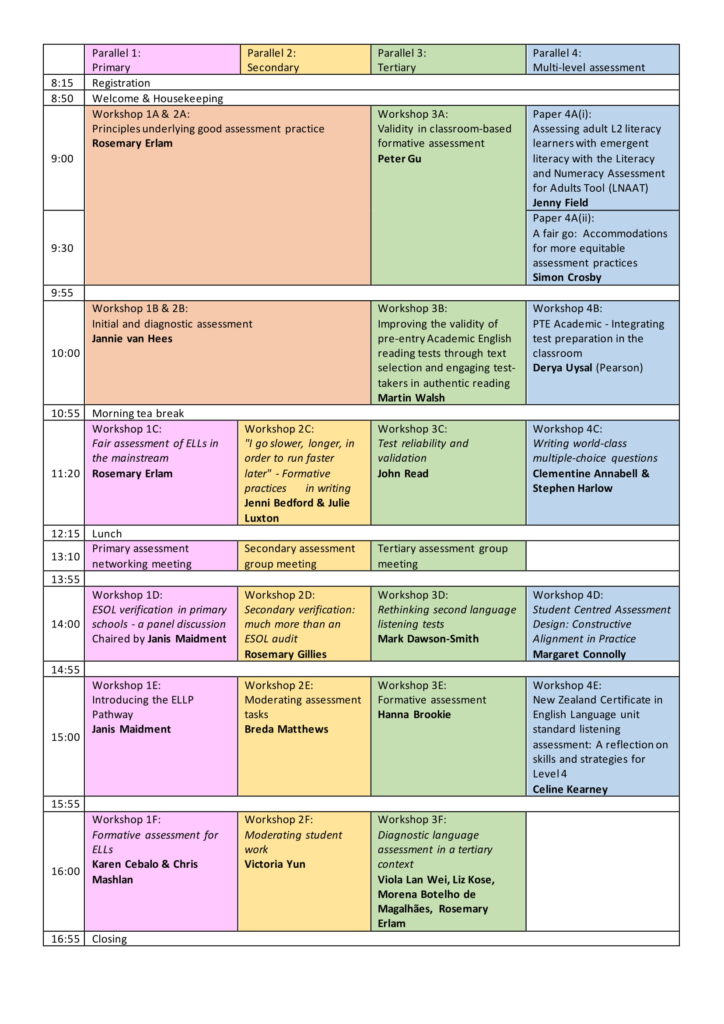 University of Auckland, Epsom Campus
8:15am — Registration opens
8:50am — Welcome
9:00am — First Workshops
5:00pm — Closing
Download the full schedule here.
Assessment is an important facet of education, and it forms a core part of our roles as teachers of linguistically diverse learners. To raise awareness of assessment in the classroom, and to focus on important issues in assessment, TESOLANZ is hosting a one-day assessment symposium.  Following on from our successful 2019 event at Wintec, this event will feature practical workshops on a range of topics, delivered by experts in assessment.
Available Workshops
Primary & Secondary
Principles underlying good assessment practice
Initial and diagnostic assessment
ESOL Verification in a Secondary School
Primary
Fair assessment of ELLs in the mainstream
Introducing the ELLP Pathway
Formative assessment for ELLs
Secondary
Formative assessment for ELLs
Moderating assessment tasks
Moderating student work – speaking and writing
Tertiary
Evaluating and moderating language tests
Rating performance tests (speaking and writing)
Test reliability and validation
Writing test tasks and items
Formative assessment
Diagnostic Assessment
Presenters include Jannie Van Hees, Emeritus Professor John Read, Dr Rosemary Erlam, and many other experts.
View the TESOLANZ Assessment Symposium 2021 Handbook
View the map of the Epsom Campus